Infrared Optics
We supply the very best infrared optics for a diverse range of applications across Short-Wave (SWIR), Mid-Wave (MWIR), and Long-Wave (LWIR) spectra. Using diamond turning and other conventional fabrication techniques, along with tightly controlled processes we strive to deliver your components on time and on budget — and always meeting or exceeding your specifications. Our industry-leading fabrication, project documentation, and data deliverables ensure your success, no matter the application.
Hardin Optical produces infrared optical components for defense, medical and commercial applications. Our extensive list of successes includes optical hardware in both small and large volumes to meet the needs of our customers and deliver beyond their expectations.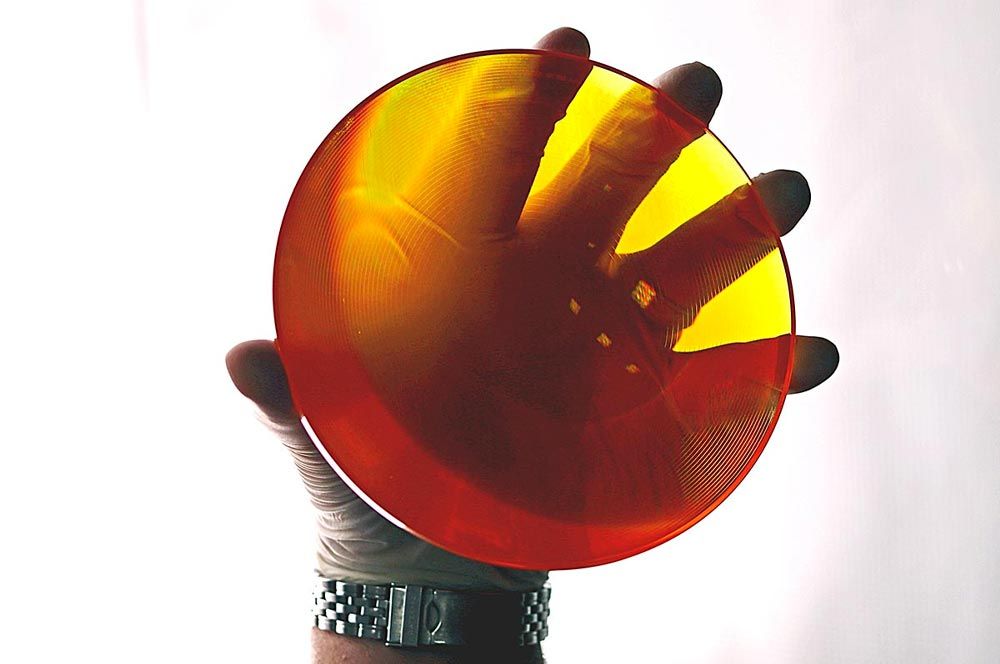 Shapes & Configurations
Spheres, Apsheres, Windows, Arrays, Non-Rotationally Symmetric free forms, and Diffractives. 

Sizes from .5mm to 350mm depending on optical design

High slope, High aspect ratio, and High efficiency refractive optics.

Surface finishes at 2.5nm or better depending on optical design

1/8 wave or better depending on optical design
Diverse Materials
Metals including Aluminum, Copper, Electroless Nickel, Silver, Brass, Gold, Bronze, and Tin

Crystals including Germanium, Silicon, Zinc Selenide, Zinc Sulfide, Calcium Fluoride, Magnesium Fluoride, and Barium Fluoride

Chalcogenide Glasses including AMTIR, IRG, and IG variations.

Polymers including Acrylic, Nylon, Polycarbonate, and Polystyrene

IR grade Fused Silica, and Sapphire
Prototype to Production
Partnering Solution Based Approach from Initial Concept to High Volume Production

Engineering and Design for Manufacturability Support

Continuous Improvement Towards Long Term Goals

Focused Execution to meet Customer Commitments

Industry Leading Data Packages
Ultra-Precision Processing
State of the art Diamond turning facility

High Speed CNC Generating and Finishing-Ideal for the high-volume manufacturing

Conventional loose abrasive Grinding and Polishing

Double sided lapping and polishing

Continuous Polishing
State-of-the-Art Metrology
Talysurf PGI

Zygo New View White Light Interferometer

Various laser interferometers Including 4in and 6in Zygo Verifire

New in 2018 LuphoScan 260- Fast non-contact 3d form measurement with +/- 50nm accuracy
Customer Focused
We listen to and collaborate with our customers as their partner, make meaningful commitments to them, and meet those commitments. We have an amazing team at Hardin, holding one another accountable to time tested core values and we believe it's ultimately reflected in our products and relationships with our customers.
Including but not limited to:

Infrared Materials:

Crystalline: Ge, Si, ZnSe, ZnS, CaF2, BaF2, MgF2

Metals: Al, Ni, brass, hard copper

Chalcogenide Glasses: IRG, IG, AMTIR
Glasses: IR Grade fuse silica, N-BK7, Sapphire

0.5mm – 350 mm diameters

Wedge ≤ 0.003mm

<=λ/8 P-V Surface Accuracies

< 2.5nm RMS Surface Roughness
Geometries include on and off-axis: spherical, aspherical, windows, toroidal, cylindrical, arrays, and other free-form configurations

All specifications subject to optical design and material.